Now people are scared of using oil. In Sri Lanka, we have been using coconut oil for years in cooking. I think Sri Lankan women always try to make food taste better by adding coconut oil. But, it is proven that oil has a major role in increasing risk of heart attacks and strokes. When we eat oil, they get absorbed in our gut, and then it increases fat levels in our blood. When there is an increase in fat in the blood it tends to deposit in our blood vessels as cholesterol plaques.
We need 20-30% of daily energy intake from fat. This means around three to five table spoons of oil can be consumed by a person daily. So I am sure you are looking for a safe oil to add to your food while keeping your heart healthy. Out of the types of oil available in Sri Lankan market Canola oil, Sun flower oil, Corn oil, Sesame oil and olive oil are safe to use. Next safer thing is our coconut oil. Coconut oil is better than palm oil or Margarine for cooking.
The way we use the oil is important as well as the type. Deep frying is the worst thing. In that case when oil gets over-heated its composition changes into bad fatty acids (Trans fatty acids) which make more cholesterol plaque inside our blood vessels. When adding oil to food, don't let it heat till the dark smoke comes out. You can do it by adding little amount of water in to the pan before adding oil, so oil will get heated without overheating. None of the above oil is good for deep frying.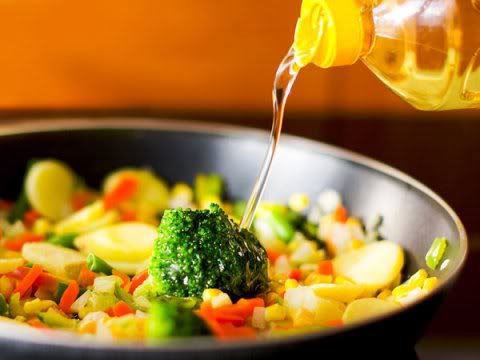 facts by - Dr.Renuka Jayatissa

written by Dr.Malsha Gunathilake
For the Sinhalese version of this article

Click Here

| ๧මම ල๢ප๢๧ය๞ ස๢๜හල ප໱ව໮තනය සඳහ๟

๧මත๠නට

යන๞න.